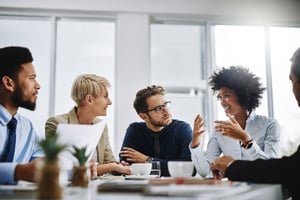 ---
Perfecting your product and better serving your customers is the end result of a quality improvement team (QIT). A QIT should consist of a group of multi-skilled employees who will be charged with this responsibility. The QIT will assist in preparing a quality system and aid in the development of clear and concise Standard Operating Procedures (SOPs) and Work Instructions. Team members will perform interdependent tasks to work toward a common mission.
When forming a QIT be sure to perform these actions:
⇒ Top management must make a commitment to support the project
⇒ Select a team leader who will build strong team dynamics – most likely the person designated as the Management Representative
⇒ Convey the team objectives
⇒ Determine the talent you need
⇒ Set team roles
⇒ Make agreements with organizational leaders who support the team's work
⇒ Organize efficient meetings
⇒ Outline a short-term plan for the team's work
⇒ Facilitate methods for problem-solving and decision-making
⇒ Train the team in the concepts and techniques of the project
⇒ Set up a method of recognizing the team
It's critical that you have a winning team so ensure that the emphasis is not on individual accomplishments but rather shared responsibility and success. This team may have a limited life. Once the quality system is in place, then you'll need to decide the future plans for the team.
David Nakanishi of Nakanishi Dental Laboratory in Bellevue, WA has successfully used this method to improve his quality system and prepare for certification. Megan Nakanishi, the leader of the quality team at Nakanishi Dental Lab,offers some advice regarding her success with her quality improvement team:
"Background/Development: We created the Quality Team at the beginning of our DAMAS implementation process to aid in the development of clear and concise Standard Operating Procedures (SOPs) and Work Instructions. Although we talked to other labs that did not utilize the help of a Quality Team, we felt it was important to engage every level of the organization in the process. By garnering "grassroots" support, we believed we could ultimately change the culture of our lab to one that is more 'Quality-System centric'. Using the following Team Member criteria: non-management, engaged, and action-oriented, we carefully chose one representative from the following departments: Client Services, Nightguard, Denture, Crown & Bridge, Ceramic, CAD/CAM, and Implant.
Quality Team Meetings: The Quality Team meets every Friday morning to review SOPs, Flow Charts, and Work Instructions; they also serve as a brainstorming group for requirements such as cleaning schedules, material lot number tracking, and purchasing controls. Upon completion of our DAMAS Registration audit, we will most likely scale back the regularity of the Quality Team Meetings – although we will not disband the group altogether. I believe keeping our Quality System in the forefront of these departments will ensure better, long-term compliance.
To keep the rest of the organization up-to-date on our DAMAS progress, I started a weekly "DAMAS Newsletter" that highlighted the work of the Quality Team, DAMAS-related projects, and information on DAMAS and FDA. The goal was to make certain everyone at Nakanishi Dental Lab understood why a Quality System is important, and to also show them how their involvement is essential. After a couple months of the Newsletters, I transitioned it into eBulletin Board Updates (rotating information on monitors throughout the lab). This seems to be the most effective (and fun!) way to communicate information to the lab.
Quality Team Members also wear bright yellow badges every Friday morning, as a visual reminder to the organization that we're meeting. This has been a conversation starter and helps keep other, non-team members engaged.
Positive Externalities: The Quality Team has been crucial in so many ways. They have not only been valuable in the weekly meetings, but outside the meetings I can rely on them to help disseminate information through their departments, lead DAMAS projects, monitor compliance and provide the most realistic feedback on our progress. I have depended on the Quality Team, and trusted their instincts, and in return they have really opened their minds to the great benefits that a Quality System can offer. The Quality Team members have really become our primary DAMAS advocates; when I am looking for shortcuts, they are the first to remind me of the benefits of doing it the right way!
Notes and Potential Obstacles: Although I ultimately believe in the value of "grassroots" support for a project such as DAMAS, there are still a lot of folks who will only make changes if the directive is from the top. Given this, it was still very necessary for the General Managers to be visible in the process and to continually espouse the importance of DAMAS.
Another note: Because we were heavily involved with the Quality Team, I spent significant time ensuring the rest of the organization knew they were equally a part of the Quality System. I received feedback at one point that some folks thought since they were not a part of the team, they were not affected by the changes… that can be debilitating to progress if not addressed early.
Overall, the Quality Team has been one of our definite successes in this Quality System implementation process. To see all levels of the organization taking ownership of the System, and working together towards this common goal is incredible. I would recommend utilizing a Quality Team if ever considering making such a drastic cultural change."
We thank Megan and David of Nakanishi Dental Laboratory for allowing us to share their experience with other businesses who are dealing with the same challenge of change. Nakanishi Dental Laboratory has achieved their DAMAS Certification as a part of their continued reinforcement to their dental clients that they are committed to providing a quality product.
Learn more about FDA Dental Regulations
Are you a dental laboratory seeking a Quality Management System? Contact SafeLink Consulting for assistance whether you are a U.S. domestic or foreign lab. U.S. Domestic or foreign manufacturers of dental appliances are required by the Food and Drug Administration (FDA) to have a quality system for the designing, manufacturing, packaging, labeling, storing, installing and servicing of medical devices intended for commercial distribution in the United States. DAMAS certification is no longer in use but there are other forms of certification, such as, ISO. This system can assist labs to operate in compliance with product safety. It provides quality guidelines to help the dental lab improve documentation from dental prescriptions to material traceability.
Contact SafeLink Consulting if you see a benefit to your company by being ISO registered. We are one of the premier FDA consulting firms in the dental industry assisting labs with medical device US import requirements. We can assist other industries as well. Our FDA compliance consultants are knowledgeable of the dental environment.
Are you a manufacturer of medical devices? Need Quality System consulting or other compliance services?
Here's what SafeLink Consulting can do for you:
Quality Management consulting
Quality Management training online courses
Quality System Regulation Risk Assessment
FDA consultants
510k consultants
Quality System Manual
Take this online course to learn more:
3 Ways Your Product Offerings Can Trigger FDA's Attention
---
Learn more about what SafeLink Consulting can do to help your business with compliance services, including safety compliance, to meet OSHA training requirements and quality system consulting to meet FDA compliance. SafeLink Consulting assists businesses with workplace safety training, infection control training, HIPAA training online, quality systems, assessments, audits, due diligence, and more.
Industries include:
Dentistry compliance - assisting the dental practice with meeting requirements for OSHA, HIPAA, EPA, and CDC guidelines, patient safety and employee health & safety
Dental Laboratory compliance - assisting the dental lab with meeting requirements for OSHA, FDA, and CDC guidelines, employee health & safety, plus FDA requirements for lab manufacturing custom implant abutment /gmp for medical device manufacturers
Medical Device Manufacturers compliance - assisting with meeting OSHA compliance & FDA requirements, GMP - good manufacturing practices
General Industry compliance - assisting with OSHA compliance and FDA compliance as it pertains to the specific business
Beverage Industry compliance - assisting beverage businesses such as the craft brewery, winery, cidery, distillery, vintner with meeting OSHA compliance, health & safety, FDA requirements / GMP - Good Manufacturing Practices.
---