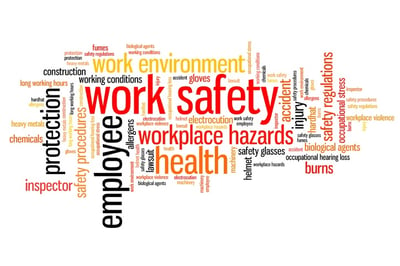 June is National Safety Month observed annually in the United States. Promoted by the National Safety Council, it is an excellent opportunity for employers to examine their workplace health and safety program and safety culture. National Safety Month serves as a reminder that safety is an integral part of any workplace and that the goal is to ensure employees make it home safely each day.
---
Employers can utilize this month to perform hazard assessments, review their secondary container labeling system, perform annual safety training, and ensure the Safety Data Sheets for chemicals are on file. Employers should ask themselves, "Have we been properly documenting injuries, illnesses, and near-misses in the workplace?" or "Do we review that information so that we can identify potential safety hazard trends in the workplace?". The act of being safe requires constant attention. Reviewing data of past occurrences can provide guidance on how to improve for the future. Preventing incidents requires the active pursuit of safety every day – it must be ingrained in the workplace culture. The National Safety Council strongly encourages all businesses to seize this opportunity to bring safety back into focus and keep it in the forefront of their employee's mind. Get help in developing your health and safety program. Go to National Safety Council.
Learn more by taking an online course about health and safety compliance.

Top 5 Safety Compliance Issues Employers Need to Know: Are you opening a new business, purchasing an existing business, or evaluating your current business regulatory compliance program? If so, then this course will help you with your due diligence checklist. Safety compliance issues range from employers not knowing where to go to gather the information to not following through with an effective workplace safety training program once knowledge is gained.
This OSHA compliance / safety course will cover:
Knowing OSHA's Safety Standards
Preparing written programs for worker safety
Developing safety programs to meet OSHA training requirements
Monitoring safety
Enforcing safety rules
Take this online course to learn more presented by Mary Borg-Bartlett, a Senior Safety Compliance Advisor and an Authorized Trainer under OSHA's Outreach Program.
Safety Connection members - sign in here to take course.
Learn more about what SafeLink Consulting can do to help your business with compliance services.

---