As a business owner or manager, you are a leader in your community and can set an example for your employees, customers, and community to follow. This September for National Preparedness Month, join your community in preparing for emergencies and disasters of all types, and leading efforts to encourage the community to become more prepared.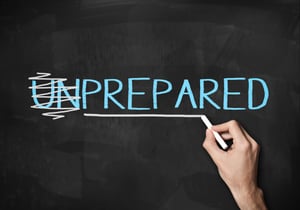 According to FEMA's Emergency Management Guide for Business and Industry there are 4 planning steps for implementing emergency management and preparedness:
Establish a Planning Team

There must be an individual or group in charge of developing the emergency management plan.
Analyze Capabilities and Hazards

This step entails gathering information about current capabilities and about possible hazards and emergencies, and then conducting a vulnerability analysis to determine the facility's capabilities for handling emergencies.
Develop the Plan

Identify challenges and prioritize activities, write the plan, develop emergency response procedures and support documents.
Implement the Plan

Implementation means more than simply exercising the plan during an emergency. It means acting on recommendations made during the vulnerability analysis, integrating the plan into company operations, training employees and evaluating the plan.
Every year emergencies take their toll on business and industry — in lives and dollars. But something can be done. Business and industry can limit injuries and damages and return more quickly to normal operations if they plan ahead. Utilize the above information to ensure that your business and surrounding community are prepared for emergency situations. Contact SafeLink Consulting for more information or help on developing your emergency preparedness plan.

Learn more about National Preparedness month.
Red Cross urges everyone to get ready for disasters during National Preparedness Month. Learn more.

Learn more about what SafeLink Consulting can do to help your business with compliance services.

---