As a business owner or manager, you are a leader in your community and can set an example for your employees, customers, and community to follow. Even though September is National Preparedness Month, join your community any time of year in preparing for emergencies and disasters of all types, and leading efforts to encourage the community to become more prepared.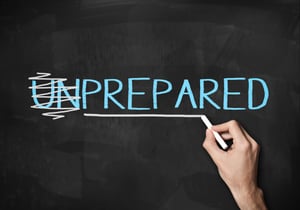 According to FEMA's Emergency Management Guide for Business and Industry there are 4 planning steps for implementing emergency management and preparedness:
Establish a Planning Team

There must be an individual or group in charge of developing the emergency management plan.
Analyze Capabilities and Hazards

This step entails gathering information about current capabilities and about possible hazards and emergencies, and then conducting a vulnerability analysis to determine the facility's capabilities for handling emergencies.
Develop the Plan

Identify challenges and prioritize activities, write the plan, develop emergency response procedures and support documents.
Implement the Plan

Implementation means more than simply exercising the plan during an emergency. It means acting on recommendations made during the vulnerability analysis, integrating the plan into company operations, training employees and evaluating the plan.
Every year emergencies take their toll on business and industry — in lives and dollars. But something can be done. Business and industry can limit injuries and damages and return more quickly to normal operations if they plan ahead. Utilize the above information to ensure that your business and surrounding community are prepared for emergency situations. Contact SafeLink Consulting for more information or help on developing your emergency action plan.
How prepared is your business for an Emergency Response including weather related emergencies? Get a free checklist.
---
Learn more about what SafeLink Consulting can do to help your business with compliance services, including safety compliance, to meet OSHA training requirements and quality system consulting to meet FDA compliance. SafeLink Consulting assists businesses with workplace safety training, infection control training, HIPAA training online, quality systems, assessments, audits, due diligence, and more.
Industries include:
Dentistry compliance - assisting the dental practice with meeting requirements for OSHA, HIPAA, EPA, and CDC guidelines, patient safety and employee health & safety
Dental Laboratory compliance - assisting the dental lab with meeting requirements for OSHA, FDA, and CDC guidelines, employee health & safety, plus FDA requirements for lab manufacturing custom implant abutment /gmp for medical device manufacturers
Medical Device Manufacturers compliance - assisting with meeting OSHA compliance & FDA requirements, GMP - good manufacturing practices
General Industry compliance - assisting with OSHA compliance and FDA compliance as it pertains to the specific business
Beverage Industry compliance - assisting beverage businesses such as the craft brewery, winery, cidery, distillery, vintner with meeting OSHA compliance, health & safety, FDA requirements / GMP - Good Manufacturing Practices.
Get notification when new regulatory compliance training courses are added plus upcoming events by subscribing to our email news.
---