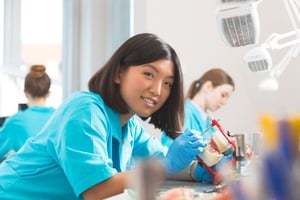 ---
Ever wonder if Asian dental laboratories are complying with quality system regulations the same as U.S. dental laboratories? The importance of compliance should be foremost in all dental laboratories whether they are U.S. domestic or foreign.
During my recent visit to China I was able to audit two facilities and both had done superior jobs in documenting their Quality System. The visits purpose was to analyze and identify gaps in their compliance systems. This is a service that we can provide to any lab. If you are working with Asian labs, then we can audit to ensure that you are protected by ensuring that they are meeting medical device compliance. SafeLink Consulting can assist in preparing for MDSAP audit (Medical Device Single Audit Program) and perform a Gap Analysis to assure that the Asian lab can do business in USA, Canada, Brazil, Australia and Japan.
SafeLink Consulting can also assist with DAMAS for Asia. The DAMAS (Dental Appliance Manufacturers Audit System) is an international standard based on FDA regulations for the manufacturing of dental devices. U.S. Domestic or foreign manufacturers of dental appliances are required by the Food and Drug Administration (FDA) to have a quality system for the designing, manufacturing, packaging, labeling, storing, installing and servicing of medical devices intended for commercial distribution in the United States. DAMAS certification provides a system that assists labs to operate in compliance with product safety. It provides quality guidelines to help the dental lab improve documentation from dental prescriptions to material traceability. Learn more about Benefits of a Dental Lab Quality System & DAMAS Certification.
Contact SafeLink Consulting if you see a benefit to your company by being DAMAS certified or ISO registered. We are one of the premier FDA consulting firms in the dental industry assisting labs with medical device US import requirements. Our FDA compliance consultants are knowledgeable of the dental environment.
How to Stay on Top of FDA Dental Regulations
Learn more in this online course: 3 Ways Your Product Offerings Can Trigger FDA's Attention
Are you a manufacturer of dental devices? Need Quality System consulting or other dental compliance services?
Here's what SafeLink Consulting can do for you:
Quality Management consulting
Quality Management training online courses
Quality System Regulation Risk Assessment
FDA consultants
510k consultants
Quality System Manual
FDA Compliance
OSHA Compliance
Health & Safety Training & Assessments
---
Learn more about what SafeLink Consulting can do to help your business with compliance services, including safety compliance, to meet OSHA training requirements and quality system consulting to meet FDA compliance. SafeLink Consulting assists businesses with workplace safety training, infection control training, HIPAA training online, quality systems, assessments, audits, due diligence, and more.
Industries include:
Dentistry compliance - assisting the dental practice with meeting requirements for OSHA, HIPAA, EPA, and CDC guidelines, patient safety and employee health & safety
Dental Laboratory compliance - assisting the dental lab with meeting requirements for OSHA, FDA, and CDC guidelines, employee health & safety, plus FDA requirements for lab manufacturing custom implant abutment /gmp for medical device manufacturers
Medical Device Manufacturers compliance - assisting with meeting OSHA compliance & FDA requirements, GMP - good manufacturing practices
General Industry compliance - assisting with OSHA compliance and FDA compliance as it pertains to the specific business
Beverage Industry compliance - assisting beverage businesses such as the craft brewery, winery, cidery, distillery, vintner with meeting OSHA compliance, health & safety, FDA requirements / GMP - Good Manufacturing Practices.
---