It's obvious when the flu vaccine is ready since signs begin to appear at drug stores. Businesses should begin planning their actions to prevent influenza illness when the season arrives. Mark your calendar for December 2-8, 2018 which is National Influenza Vaccination Week. This week was established to highlight the importance of continuing influenza vaccination, as well as fostering greater use of flu vaccine after the holiday season in January and beyond.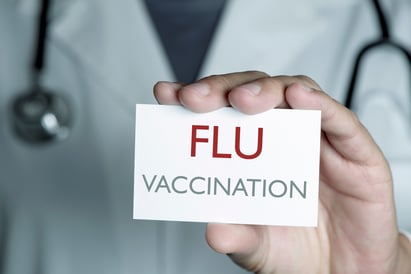 Even though it's not a requirement by OSHA, many employers provide the flu vaccine to their workers. Employers can protect their business from worker illness and absenteeism during the upcoming flu season by providing educational material that will encourage workers to have the vaccine. The three agencies that are helpful in providing this type of information are OSHA, FDA, and CDC.
How are the strains for the vaccine determined?
Each year, the FDA, World Health Organization, the Centers for Disease Control and Prevention and other public health experts collaborate on the review of influenza disease surveillance and laboratory data collected from around the world in an effort to identify strains that may cause the most illness in the upcoming season. Based on that information and on the recommendations of the FDAs Vaccines and Related Biological Products Advisory Committee, the FDA selects the different influenza strains each year that manufacturers should include in their vaccines for the U.S. population for the upcoming influenza season.
What viruses will the 2018-2019 flu vaccines protect against?
According to the Food and Drug Administration, flu vaccines protect against the three or four viruses (depending on vaccine) that research suggests will be most common. For 2018-2019, trivalent (three-component) vaccines are recommended to contain:
A/Michigan/45/2015 (H1N1)pdm09-like virus
A/Singapore/INFIMH-16-0019/2016 A(H3N2)-like virus (updated)
B/Colorado/06/2017-like (Victoria lineage) virus (updated)
Quadrivalent (four-component) vaccines, which protect against a second lineage of B viruses, are recommended to contain the three recommended viruses above, plus B/Phuket/3073/2013-like (Yamagata lineage) virus.
What are the basic precautions that workers should take to prevent contracting the flu?
To help businesses, employers, and their employees learn about these strategies for preventing flu, CDC provides extensive information on its website. The following has been published by the CDC as basic precautions for workers:
Get vaccinated! Vaccination is the most important way to prevent the spread of the flu.
Stay at home if you are sick. CDC recommends that workers who have a fever and respiratory symptoms stay at home until 24 hours after their fever ends (100 degrees Fahrenheit [37.8 degrees Celsius] or lower), without the use of medication. Not everyone who has the flu will have a fever. Other symptoms could include a runny nose, body aches, headache, tiredness, diarrhea, or vomiting.
Keep frequently touched common surfaces (e.g., telephones, computer equipment, etc.) clean.
Try not to use a coworker's phone, desk, office, computer, or other work tools and equipment. If you must use a coworker's equipment, consider cleaning it first with a disinfectant.
Stay in shape. Eat a healthy diet. Get plenty of rest, exercise, and relaxation.
If you are in a high risk category for flu complications (e.g., pregnant women, persons with asthma, etc.) talk with your employer about alternative work assignments.
Participate in all training offered by your employer. Make sure that you understand your exposure risk, your facility's policies and procedures for isolation precautions, use of workplace controls, work practices, and PPE protection during aerosol-generating procedures, and potential complications of the flu.
What can employers do to protect their workers from the flu?
OSHA recommends that you use a set of occupational safety and health controls to protect yourself, your workers and your customers. OSHA recommends the same control measures that employers should use to eliminate or minimize a hazard. They are:
Engineering controls;
Administrative controls;
Work practices; and
Personal protective equipment (PPE).
Engineering controls are those that involve making changes to the work environment to reduce work-related hazards.
Administrative controls are those that modify workers' work schedules and tasks in ways that minimize their exposure to workplace hazards.
Work practices are procedures for safe and proper work that are used to reduce the duration, frequency or intensity of exposure to a hazard. When defining safe work practice controls, it is a good idea to ask your workers for their suggestions, since they have firsthand experience with the tasks.
Personal Protective Equipment (PPE) is protective gear needed to keep workers safe while performing their jobs.
What is the best way to protect against this potentially serious disease?
The CDC published the following information:
An annual flu vaccine is the best way to protect against this potentially serious disease.
Flu vaccination can reduce flu illnesses, doctor visits, missed work and school due to flu, as well as prevent flu-related hospitalizations.
Flu vaccination also may make your illness milder if you do get sick.
Getting vaccinated yourself protects people around you, including those who are more vulnerable to serious flu illness, like babies and young children, older people, and people with certain chronic health conditions.
Why is a new flu vaccine in need each year?
The CDC reports that:
Flu viruses are constantly changing, and this season's vaccines have been updated to protect against the viruses that surveillance data indicate will be most common this flu season, and
A person's immune protection from vaccine declines over time so annual flu vaccination is needed for the best protection against the flu.
When should you have the vaccine?
The CDC reports that you should get a flu vaccine before flu begins spreading in your community:
It takes about two weeks after vaccination for antibodies to develop in the body that protect against influenza virus infection.
While seasonal flu outbreaks can happen as early as October, flu activity is usually highest between December and February, though activity can last as late as May. If flu viruses are circulating, it's not too late to get vaccinated, even in January or later.
With flu activity increasing and family and friends planning gatherings for the holidays, now is a great time to get a flu vaccine if you haven't been vaccinated yet this season. A flu vaccine can protect you and your loved ones from the flu.
Be proactive this year to avoid business interruptions that can result from work absenteeism due to any type of illness whether the common cold or as severe as influenza.
CDC Frequently Asked Questions about the Flu is available at: https://www.cdc.gov/flu/about/season/flu-season-2018-2019.htm
Please visit www.safelinkconsulting.com for more information on how you can train and protect your employees on health & safety.
Watch this video clip to learn more about the flu and common cold (taken from SafeLink's online course titled, Ebola - How Prepared Are You in Your Workplace):

New online course coming soon! Top 5 Ways to Manage Infection Control

Learn more about what SafeLink Consulting can do to help your business with compliance services.

---