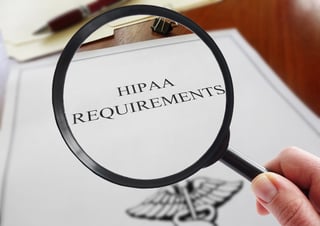 ---
It's vital to ensure your business meets HIPAA compliance. The Department of Health and Human Services (HHS) has been actively inspecting businesses, otherwise referred to as Covered Entities, to certify compliance with this privacy rule.
Complying with HIPAA continues to generate many questions and need for clarifications. The HIPAA rule established by the Department of Health and Human Services (HHS) back in 1996 has evolved over time. This evolution has created a need for continuous education on HIPAA's requirements.
HHS requires under the HIPAA Act that covered entities protect patient health information. A requirement of HIPAA is to inform workplace members of the established privacy and security measures in effect. Get the help you need in clarifying the basics of HIPAA requirements and training your workforce members by taking this HIPAA training online course: HIPAA – Employee Need to Know.
The safeguards established to protect patient health information under the HIPAA Act includes the appointment of individuals who will establish, monitor, and update the privacy and security policies and procedures. It's critical for the privacy official and security official to understand their responsibilities for the protection of this information. These individuals are the key to the establishment of a Covered Entity's policies and procedures. Get the help you need in grasping the official's responsibilities and in understanding the types of documentation needed to meet the privacy rule requirements by taking this HIPAA online training course: HIPAA Privacy Official and Security Official Responsibilities.
Learn more by taking one of our compliance training courses:

Do you need dental HIPAA compliance? HHS has been actively inspecting dental practices to ensure compliance with this privacy rule so ensure that you're in compliance. Take a HIPAA compliance course or contact SafeLink Consulting to speak with a HIPAA compliance consultant.
Need help in writing your HIPAA policy? Get a HIPAA compliance consultant by contacting SafeLink Consulting.
Need help in meeting other compliance regulations? Contact SafeLink Consulting for assistance.
New online compliance courses are continually added! Get notification when new regulatory compliance training courses are added plus upcoming events by subscribing to our email news.

Learn more about what SafeLink Consulting can do to help your business with compliance services, including safety compliance to meet OSHA training requirements and quality system consulting to meet FDA compliance. Industries include:
Dental compliance for the

dental practice

and the

dental lab

-

workplace safety training,

infection control training and HIPAA training online, quality systems lab, manufacturing custom implant abutment,

gmp for

medical devices manufacturers

including

the dental lab,

and need for

510k consultants.
Beverage compliance for

brewery safety and cidery OSHA safety

- OSHA training requirements, quality system consulting and implementation of current good manufacturing practices for

beverage

manufacturers to ensure that your business is doing the best it can to provide products that are both healthy and safe for the public.

General industry

compliance - our OSHA compliance consultants and FDA compliance consultants are ready to assist you and your business.
---