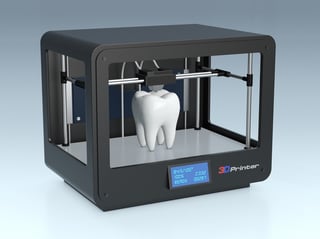 ---
This year's Chicago events represented how the dental lab industry has most definitely moved into technology. From presentations focusing on use of technology in the scanning and milling of dental devices to the exhibits at Lab Day showing scanners, milling machines, and 3D printers, dental lab owners appeared to embrace the necessity of continuing to move forward through technology. Additive manufacturing has added another dimension to how dental labs manufacture. On the other hand, they expressed their concerns to us about how the use of this technology affects their Quality System and FDA requirements.
With 3D printing growing rapidly throughout the manufacture of medical devices, business owners not only have to determine the type of 3D printing dental equipment to purchase but also the FDA dental regulations that apply to their business. Printing of models has been around for several years, but now this technology can print parts and even complete restorations.
Here are some Lab Day 2018 news and the questions we've been receiving since our return from Chicago about this technology and its legal implications:
Can I 3D print or mill surgical guides? Yes, you can print or mill dental surgical guides if the software in the mill or printer has a 510(k) that shows it is validated for printing those devices. If you need help understanding validation, contact SafeLink Consulting. Also, the materials used in the printing process must be cleared with an FDA 510k. Learn more.
Do I have to register with FDA if I mill or print surgical guides? Yes, you should register with FDA. Learn more about FDA registration and manufacturing surgical guides.surgical
Can I 3D Print Bite Guards/Splints? Yes, you can print bite guards/splints. The materials may require a 510(k) if Class II or registration and listing if Class I.
Do I have to register with FDA if I print Bite Guards/Splints? No, you do not have to register with FDA unless you are marketing a splint to treat migraines, TMJ, etc.
What are the FDA registration requirements? Go to the FDA's website to begin the registration. It begins with paying the fee which is $4,624 this year. Typically increases each year so put it in your budget for each year to pay this fee. After you receive confirmation of your payment being received, then you'll be able to register your establishment. Have all the information regarding product codes ready when you register. If you need assistance to register with FDA, then contact SafeLink Consulting for guidance in FDA registration.
Does FDA publish any guidance regarding 3D printing requirements? Yes, there are a number of sites you can visit to gain more information from FDA. They are:
The 3R's of 3D Printing – FDA's Role
FDA's Role in 3D Printing
Technical Considerations for Additive Manufactured Medical Devices - The Guidance for Industry and Food and Drug Administration Staff will help you be better prepared for an FDA inspection and ensure your Quality System covers these requirements.
Contact us if you need assistance with:
SafeLink Consulting's FDA compliance consultants can provide assistance in determining if your business model meets 510(k) requirement, plus guidance on FDA registration, quality system consulting, and implementation of current good manufacturing practices - gmp for medical devices manufacturers including the dental lab, lab quality, plus beverage manufacturers to ensure that your business is doing the best it can to provide products that are both healthy and safe for the public.
Get regulatory compliance training courses.
---