SafeLink Consulting will be exhibiting at the Georgia Academy of General Dentistry Annual Symposium in Atlanta on August 23rd & 24th. Stop by our table to learn more about how SafeLink Consulting can help better your business.
How does your dental practice approach OSHA, CDC and HIPAA compliance? Ensuring you are providing a safe environment for both your patients and employees is essential to your business success. Don't wait until a disgruntled employee or patient reports any erroneous business practices to OSHA or your state licensing board. Being proactive now in improving your business practices, such as, infection control and privacy practices, is an important part of any fruitful dental practice.
SafeLink Consulting can help protect your practice from liability while also saving you time and money. With over 25 years of experience assisting the dental industry our consultants know what to look for in the dental practice environment. When onsite our consultant will assess your facility and procedures and give constructive feedback to improve your business practices, Conducting a thorough safety survey is vital to determining your risk position and prevention needs. Assessing your work practices is also essential, including review of the Bloodborne Pathogen Standard, infection control procedures, CDC infection control guidelines, personal protective equipment requirements, ergonomics, anesthetic gases, radiation safety, electrical issues, fire safety, first aid, emergency procedures, chemical safety, machine guarding, hazard communication, and more.
SafeLink's consultants also train all staff in a manner that ensures knowledge retention and brings positive results. Topics covered include: Exposure control/Infection Control practices, Chemical safety/hazard communication, Emergency planning & procedures, Personal protective equipment requirements, Ergonomics, Electrical issues/lockout-tagout, Equipment safety, Workplace Violence/Lockdown, Hazardous waste containment/disposal, Medical gases, Radiation safety, Injury & Illness reporting, and General HIPAA Review as well as Patient Safety.
Learn more about employee safety, patient safety and privacy.
Proper Removal of PPE for Infection Control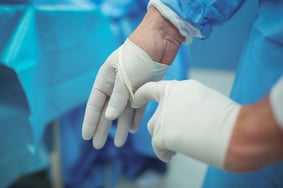 Visit our Events page for upcoming workshops and seminars.
Need a Health and Safety Manual for your business? Contact us for customized programs.
Learn more on how you can train and protect your employees on health & safety.
Learn more about what SafeLink Consulting can do to help your business with compliance services.
Regulatory Compliance for General Industry
Regulatory Compliance for Dental Laboratory
Regulatory Compliance for the Dental Practice
Regulatory Compliance for the Brewery / Beverage Industry
---